The Blue Room
A 20 sq.m. large two-room apartment with a 70 sq.m. private patio.
One double and one single bed.
Separate entrance with a wisteria pergola.
Kitchenette.

Price list / a day:
November, December, January, February, March: 180 € (prepaid rate: 165 €)
Christmas time (from 23rd Dec to 7th Jan), April, Easter, May, October: 205 € (prepaid rate: 185 €)
June and September: 215 € (prepaid rate: 195 €)
July and August (one week, from Saturday to Saturday): 255 € (prepaid rate: 230 €)
From 21st Jul to 18th Aug: 270 € (prepaid rate: 245 €)
The prepaid payment discount is applied when the customer pays the total amount at least three months before booking.
FAMILY PLAN:
Room with two adults, from 0 to 3 years 10 € for cot, linen and small breakfast.
From 3 to 16 years 45 € in the room with parents.
For the months of July, August we only rent complete weeks.
Small and medium-sized dogs are accepted, always agreeing in advance at a cost of € 8.00 per day.
CANCELLATION COSTS
From 2 months before arrival we agree to use the amount for a new booking
Loss of deposit from 1 month before arrival
From 7 days before arrival: 60%
From 7 days to 1 day 75%
From 1 day before arrival, loss of 100%.
CANCELLATION COSTS PREPAID RATE
From 2 months before arrival we agree to use the amount for a new booking
From 2 months to the day of arrival, total loss of the amount
---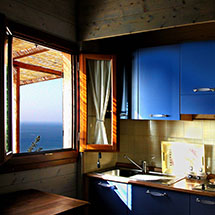 The kitchen is stocked with dishes, glasses, pots and electric plates. At first arrival oil, vinegar, salt, sugar, coffee, tea and still and sparkling water are supplied.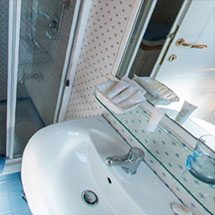 The bathroom has got a shower, toilet, bidet, hairdryer and complimentary bath products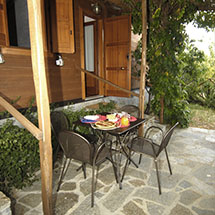 Private patio with sea view, equipped with table and chairs.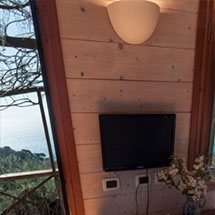 Flat screen TV, air conditioning / heating and free wi-fi.